Customer Reviews
03/01/2023
Michelle W.

United States
Sparkle n Shine Prom Dress
If you want a professional custom maid prom dress/ball gown, look no further. Shay Simone is professional and has excellent customer service! She new exactly what I wanted and came through in a short window of time. Definitely would recommend and will be ordering a gown from her for next year.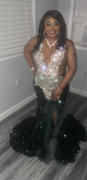 10/30/2022
Margina C.

United States
Professional, Punctual and Precise
My daughter has her consultation for her prom dress for 2023 and Shay Simone was on time, the consummate professional without sacrificing her relatability and extremely knowledgeable. We are excited to begin this journey with her!
10/17/2022
Melissa F.

United States
10/15/2022
Joy

United States
10/15/2022
Renata W.

United States
10/12/2022
Jayla

United States
10/12/2022
katelyn

United States
the shay experience !
My experience with Shay was fantastic; she was always professional and came through when we needed our dresses made a couple months before prom; everything was a 10/10 from the consultation to picking up our dresses. I strongly recommend her to anyone looking for a custom designer for any event. She made my sister and I look beautiful!
10/12/2022
Mauri M.

United States
10/12/2022
Amauri T.

United States
Iridescent Gala Mermaid
My overall experience with Shay was amazing! From the consultation all the way to the fast delivery she provided top not service. She took a description of a dress and brought it to life! Delivered everything I asked for. I was scared sending in my measurements and getting the dressed shipped to try on, but it was flawless. No touch ups was needed I loved everything about my experience. So many compliments on her work, I really enjoyed my night and felt just as good as I looked!
10/12/2022
Sheniya A.

United States
10/11/2022
Taniesha L.

United States
Shay is AMAZING!
Hello, My overall experience with Shay was amazing! I didn't know her at all, she was referred to me via Facebook because I needed someone to make a custom dress for my daughter's prom. With that being said we all know it's extremely hard to trust a complete stranger, let alone give them money. Upon meeting Shay I felt at ease, she was so polite, helpful and knowledgeable about everything I asked her. She made me and my daughter feel welcomed at her consultation and all of dress fittings while still remaining 100% professional. Throughout the dress making process Shay stayed in contact with me and made sure all of my requests were met regarding the look that my daughter was going for, regarding her prom dress. And at the end I almost cried when I saw how beautiful my daughter's prom dress was. I will recommend any and everyone I know who may need a prom dress or anything custom made. I really appreciated this experience, Thank you so much Shay
10/01/2022
Aubrey M.

United States
Prom Dress
Shay is so unbelievably talented!! She is very talented, smart and gifted!! She created the most beautiful dress for my daughters prom! My daughter felt like a princess the entire night! Shay is upfront about cost, time, and her expectations. She is very professional and respectful! Any dress I will ever have made will only be by her!
09/29/2022
Kenya

United States
Ice princess
Shay has a great personality, communication was always on point and very professional thank you Shay for making my daughter prom special hands down my daughter shut the city down ‍♀️‍♀️
09/29/2022
Kenya

United States
09/29/2022
Tiffany L.

United States
Perfection for a queen
Shay understood the assignment!!! She was absolutely incredible during the entire process. Not only is she professional, but she's also a woman of integrity. There was an issue with the original fabric that my daughter and I loved and while she could've proceeded into the design with that fabric, we were contacted immediately about it and made the necessary changes that resulted in an even better dress than we could have imagined. Thank you for not only a beautiful dress, but an incredible, memorable experience.
09/29/2022
Jamyah M.

United States
The Initial Consultation
Whether your in-state or out-of-state, all of our clients are required to do a virtual consultation. We'll take a look at your inspiration picture, sketch your design, select fabric, and take your measurements on this virtual call.
Fittings
All custom dresses require 1-3 fittings. Depending on the design.
In-state clients will be scheduled for in-person fitting.
Out-of-state clients: If needed, fitting will be held with Shay Simone on a Zoom Video Call after we ship your custom dress to you.
Shipment Or Pickup
It's time for your pickup or shipment! We will send you pictures and videos of your dress before your pickup or shipment!
DRESSES MADE FOR EVERY OCCASION